Wilmslow is lucky to have a range of health and leisure clubs, each one having its own specific range of facilities and features. There really should be one to suit everyone's taste, whether you require an adult only club, a child friendly club, one with excellent racket game facilities or general all round sports provision.
Watch this page for details of the hair, beauty and nailcare provision that is available in the area. Details will follow soon.
Beauty and Lifestyle ; Health and Leisure Clubs; Hairdressing;

Beauty and Lifestyle
Acuforhealth
Suzanna J Blach, BSc, LicAc, MBAcC
Natural Practices Clinic
14 St Ann's Parade
Wilmslow SK9 1HG
Tel: 01625 549000
Mob: 07511 911220
Email: info@acuforhealth.co.uk
Christoph Spiessens Life Coaching

Tel no. (+44) 0161 872 5953 (+44) 0788 4076 893
e mail: Christoph@ChristophSpiessens.com
www.wilmslow-lifecoaching.co.uk
www.ChristophSpiessens.com


Qualified Life Coach offering affordable and highly effective Life Coaching services.
Through Life coaching you can find inner balance and release your full potential!

Feeling stuck in a rut? Suffering from anxiety? Afraid of making changes? Lacking energy? Relationship problems? Tired of your current situation?
Get in touch now and book your FREE EXPLORATORY SESSION!

Professional and affordable Life Coaching from the comfort of your home or office, by phone, online or in person.
Skin Deep Solutions
8, Victoria Avenue
Cheadle Hulme
Cheshire
SK8 5DL

Tel. 0161 286 0617
Mob. 07787 541059

www.skindeepsolutions.co.uk


Olwen is an experienced nurse practitioner who runs her own business, Skin Deep Solutions, specialising in non-surgical cosmetic treatments such as Botox, Dermal fillers and volumisers, which includes Radiesse and Sculptra for facial contouring. Skin Peels, advanced pharmaceutical strength Skin Care Products and Jane Iredale Mineral makeup is also available.

Her service is friendly, flexible and discreet. Perfect for clients who want exclusivity, who do not wish to attend a large clinic and to fit in with today's busy lifestyles.
Traditional Chinese & Facial Rejuvenation Acupuncture
Julia Baker, Dip Ac, MBAaC
The Lavender tree
105 Brook lane
Alderley Edge
SK9 7RU
Tel.no. 01625 599532 / 07791 345 053


YFL (Younger for Longer)
Sugar Pit Lane
Knutsford
Tel 01565 633780
Mob. 07939 692663
e-mail anne@youngerforlonger.co.uk
web www.youngerforlonger.co.uk


Introducing the ultimate NON SURGICAL FACELIFT & CACI ULTRA.

The award winning Caci Micro Current System is the most publicised salon treatment system available and has attracted a strong celebrity following in the UK. It works to re-educate tone and lift the face muscles and enhance skin repair. Ulta Skin Regenerator features a unique ultrasonic exfoliation which deep cleanes the skin. it also incorporates a wrinkle comb which combines photo stimulation with a high frequency micro current to effectively plump out and soften lines, wrinkles and stretchmarks and provides a non invasive alternative to collagen injections. Private, relaxing treatment room in Knutsford. Discretion guaranteed.

2007 summer offer Initial Treatment and Consultation free


Health and Leisure Clubs
Club Moativation
Manchester Airport Moat House, Altrincham Road, Wilmslow SK9 4LR
Tel: 01625 889901
Distance: 3 miles
Opening Times: Mon - Thurs 6.00am - 10.00pm, Fri 6.00am - 9.00pm, Sat 7.00am - 9.00pm, Sun 7.30am - 9.00pm

A small friendly club with a range of facilities including an aerobics studio, a squash court and a swimming pool with access to outside in good weather.
There is a bar area where food and drink is served and also a beauty salon.
Children are allowed entrance between 8.00am and 7.00pm on Mondays to Thursdays and from 8.00am to 8.00pm on Fridays to Sundays.
Off peak membership is availale from Monday to Thursday: 7.00am-5.00pm
Energie
Summerfields Village, Wilmslow SK9 2GH
Tel: 01625 520555
Distance: 1.5 miles
Opening Times: Mon - Thurs 6.30am - 9.30pm, Fri 6.30am - 8.00pm,Sat. 7.30am - 6.30pm, Sun 7,30am - 8.00pm

A friendly health and leisure club with a good range of facilities including two aerobics studios and a 20m swimming pool with accompanying sauna, steam room and whirlpool spa.
A creche is available and there is a cafe bar serving a variety of food and drinks.

There is a beauty salon in the club.
Children are allowed into the club between 12 noon and 4.00pm on Saturdays and Sundays and on Bank Holidays.
Reduced membership is available for off peak hours.
Off peak hours: Mon - Fri 9.00am - 5.00pm, Sat - 4.30pm - 6.30pm, Sun - 6.00pm - 8.00pm
David Lloyd Leisure Ltd.
Royal Crescent, Cheadle, Stockport, Cheshire SK8 3FL
Tel: 0161 491 7408
Website: www.davidlloydleisure.co.uk
Distance: 5 miles

A large, family orientated club with a wide range of facilities and activities.
There are indoor and outdoor swimming pools, indoor and outdoor tennis courts and a range of other facilities including aerobics studios, gyms and squash and badminton courts.
A well equipped creche is available and there is also a hair and beauty salon within the club.
Children are welcome at all times.
Exercise and Movement Class
Chorley Village Hall
Knutsford Rd, between Wilmslow & Alderley Edge

Classes are held on Mondays 1.45 - 2.45pm. Low Impact exercise and movement class - The Fitness League
Contact : Pat Ryder tel. no. 0161 980 1505 or 07901925534 for more information. Fun, friendly classes - all welcome.

Springs at the Belfry - The Belfry House Hotel, Stanley Road, Handforth, Wilmslow SK9 3LD - Tel: 0161 493 3524
The Alderley Pilates Studio - Monks Heath Hall, Chelford Road, Nether Alderley, Macclesfield, Cheshire SK11 9SU - Tel: 01625 860475
Total Fitness - Wilmslow Way, Handforth, Wilmslow SK9 3PE - Tel: 0161 440 2600
Opening Times: Monday-Thursday: 6.30am-10.00pm: Friday: 6.30am-9.00pm: Saturday and Sunday: 8.00am-7.00pm

Hairdressing
The Style Lounge
37 London Road
Alderley Edge SK9 7JT
Tel: 01625 581777
Fax: 01625 585885

Colour with confidence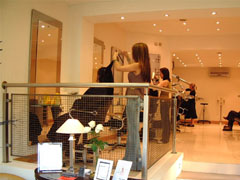 Formerly Peter Savill's, the Style Lounge awaits you with the existing staff and new members as well. We are pleased to announce that former stylist Maxine has returned to our team.

We are specialists in Racoon Hair Extensions and Bridal Hair Design and have award winning colour technicians and stylists to advise you . Call us for a free consultation.
Your hair is our business and there is nowhere better

Mention this website to receive 10% discount off any treatment

Stockists of Tigi/Bedhead products.