Wilmslow's size gives it a unique position as a Cheshire nightspot and also guarantees that familiar shops and restaurants to most high streets are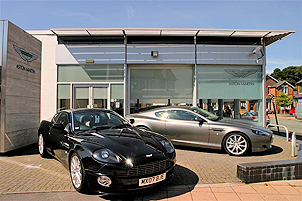 abundant. As a destination for shopping, it has the definite advantage of having an established department store and a wealth of shops where people can buy nearly anything that can help them display their wealth. It is no coincidence that Aston Martin here sell more cars than anywhere else in the country.

Where is Wilmslow ?
Wilmslow is situated 3 miles from Manchester Airport and is a lively and growing suburb of Manchester with more than enough to offer the casual or permanent resident. Just 15 miles directly South from Manchester Town Centre within easy reach of Stockport the M56 and M6 Motorways and coming under the jurisdiction of Macclesfield Borough Council. The town's population is 30,000 and another 8,000 or so people live in the surrounding areas which includes Handforth and Alderley Edge.
nightlife...
The nightlife in Wilmslow and Alderley is legendary and even attracts the attention of personalities such as Jeremy Clarkson of Top Gear to comment on its breadth and depth! Every kind of after hours entertainment is available from music and food to clubs and exclusive watering holes. More champagne is sold in Wilmslow and Alderley Edge each month than in any other place in the UK. Wilmslow is home to a varied set of entertainment from jazz and live music, through theatre and opera nights.
A vibrant local community and schools provide additional events of culture and the region is home to a well established set of auctions, antique fairs and even car boot sales.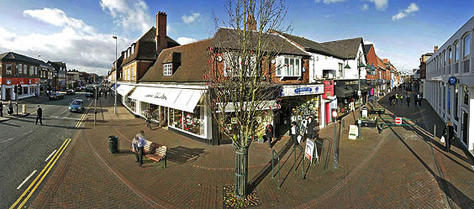 shops...
Water Lane and Grove Street form the main arteries of Wilmslow with a thriving local shopping area and wide range of local business including familiar shops,WHSmith, Boots, Next, Starbucks, Laura Ashley, Hoopers, MFI and Thorntons as well as those exclusive to Wilmslow , Hoopers, Jane Shilton amongst many more.
Handforth and Alderley Edge feature a smaller set of local retailers including traditional butchers, florists and local produce shops. Handforth also offers a 24 hour Tesco, a large Marks & Spencer store, B&Q, Halfords a Next Superstore and others.
history...
Nestling in the valley of the Rivers Dean and Bollin lies Wilmslow.
It has been suggested that it's name derives from Wighelmes-hlaw, later changing to Wylmeslowe and Willmeslawe, to name a few. Prior to 1894 the ancient parish of Wilmslow had no township. It was when the townships of Pownall Fee, Bollin Fee, Chorley and Fulshaw joined together they became known as the parish of Wilmslow.

Much about the local Iron Age history of Wilmslow was uncovered with discovery of Lindow Man, in Lindow Moss. Preserved in the peat bogs for 2000 years, Lindow Man is one of the most important Iron Age finds in the country. Despite a campaign to keep Lindow Man in the area, he was transferred to the British Museum and is a central feature of the Iron Age exhibition. Lindow Man will be returning to Manchester Museum in April 2008 for one year long exhibition.
Near the Wilmslow library a garden was dedicated in 1950 to the memory of Reverend George Bramwell Evans. His "Vardo", similar to a gypsy caravan, which he used to travel the countryside resides in this tiny garden for all to see.
During his lifetime he presented programmes on BBC Northern Children's Hour and wrote books and articles in newspapers which are still used to this day to teach children to care about the environment. His mother had been a gypsy and this is why he took the name 'Romany' for which he is now remembered.
Famous Residents...
Alan Turing, the driving force behind the Bombe machine for cracking the German Enigma cypher, is perhaps Wilmslow's most notable resident. Turing committed suicide in his Wilmslow home on 7th June 1954 by eating a cyanide-laced apple
The British indie rock band Doves met at Wilmslow High School in the 1980s. Their song 'Black and White Town' was inspired by Wilmslow and its contradicting 'rich-poor' divide
Other notable residents include;
* Alex Ferguson, Manager of Manchester United
* Kerry Katona, former Atomic Kitten star