Heddy's Mezzeh Bar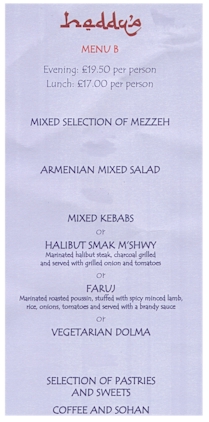 Cheshire Life, January 2004 says: Heddy's in Water Lane, Wilmslow, with its Middle Eastern and Mediterranean cuisine is a different and distinctive component in the Cheshire eating out scene. The food is serious, the experience is fun and with Mediterranean influenced decor throughout, the patio doors can be flung open in summer to allow al fresco eating.
The food has vivid colours and it is best to try a variety of dishes. Mezzeh start at £7.50 for a small selection to £21 for four. The selection is extensive but not expensive and Heddy, whose experience includes the Yang Sing as well as Middle Eastern restaurants, sees that everything is prepared on the premises.
The wine list is wide and includes some reasonably priced wines of the month. Heddy is a wine lover and includes the legendary Chateau Musar wines of the Lebanon among the list.
Heddy's is an experience not to be missed.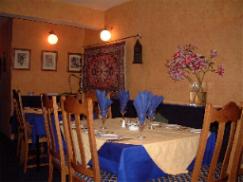 The Jewish Telegraph, November 2003 says: Heddy is always there - that's the success of his well established Middle Eastern and Meditarranean eating place in Water Lane, Wilmslow which he prefers to describe as Armenian. He knows so many of the guests personally, perhaps not suprising since some actually dine in the restaurant nearly every day whilst others are genuine regulars.
What of the food? It would be hard to find better Middle Eastern cuisine anywhere in the region. We enjoyed super mezze which included super Sarma (stuffed vine leaves), genuinely home-made hummus and falafel, perfect tabouleh, Mutabal (a medium spicy aubergine mixture), tiny feta cheese pasties and much, much more. Whilst the menu includes many of the familiar non-vegetarian dishes, Heddy is determined to satisfy non-meat eaters. And he does well.
Quite how we managed a plate of mixed Middle Eastern desserts, including Heddy's home-made ice cream, I am not sure - but we did.
There are 60 wines on the wine list including the reknowned 1995 Lebanese Musar wine( which is Heddy's favourite). Heddy claims to taste all 60 wines on a very regular basis. Not only does he know his patrons well, but his product too.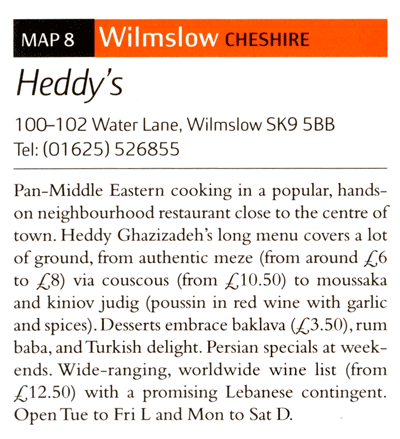 Manchester Evening News on May 28th 2004 - by Ray King says:
Cooking: Authentic Mediterranean-Middle Eastern.
Starters include classic hot and cold mezzeh served individually or on mixed platters, and a range of kebabs and middle eastern specialities. We opened by sharing a bowl of wonderful Baba Ganouge (£3.50) , scooping up coarse-chopped aubergines, red onions, tomatoes and parsley in aromatic oil, with strips of pitta also useful for eating the broad beans and silky home-made hummus (£4.25) - judging it the perfect partner for meat grilled on the barbecue.
Next came Couscous Tunisiene (£15.95) – a generous slab of firm white halibut smothered in a traditionally rustic stew of chunky carrots, red peppers, celery and onions, served on a bed of couscous with a boat of rich and spicy harissa sauce. We also had Faruj (£13.50) - marinated poussin stuffed with minced lamb, rice and pine nuts, served with brandy sauce. The flavours were robust and mouth-wateringly exotic but the poussin was fiddly to eat.
We rounded off the meal with squares of exemplary honey-sweet baklava (£2.50) and less familiar canafe (£2.50), the latter a confection of shredded pastry with nuts, cinnamon, syrup, rosewater and lemon juice.
Plus: Heddy's wines are serious stuff . In addition to the 10 Lebanese wines from the Beka'a valley which include four vintages of the legendary Chateau Muzzar, there are excellent wines such as a rare Condrieu from the Rhone, a Toro from Spain and a Henschke Shiraz-Cabernet from Australia. House wines are £11.95/£3.25 the glass, of which the Hunter Valley semillion sauvingnon packed enough fruity punch to deal with the spicy dishes.
Minus: Very busy at weekends
Style: A genuinely personal touch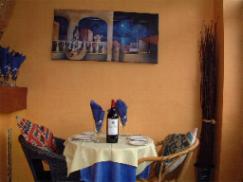 Heddy's Restaurant
102 Water Lane, Wilmslow
01625 526855
Distance: 0 Miles
Opening Times: Tuesday-Friday: 12noon-2.30pm; Monday-Saturday: 6.30pm-10.30pm

Editors Note: Outstanding taste bud sensation, try the Hummus and Sausage. Heddy is also a Great Host. Good for lunch - busy at weekends.